From June13 to July 27, select your favorite from the eight 2022 SQSC finalists below. The finalist you vote for will have a chance to win "G-Way Health Centre People's Choice Award" and you may take home the $500 cash prize!
Voting will end on July 27, 2022 at 11:59pm. Results will be announced on air during the 2022 SQSC Final on July 30 and will be published here. Winner will be notified individually, or the winner can contact Fairchild Radio at 604-295-1234 to arrange prize redemption details.
Maximum one vote per IP address. Fairchild Group staff and their immediate family members are not eligible to enter. Cash prize will not be transferred internationally.
Download FR App by scanning the Apple and Android QR codes below, cast your vote for a chance to win the cash prize!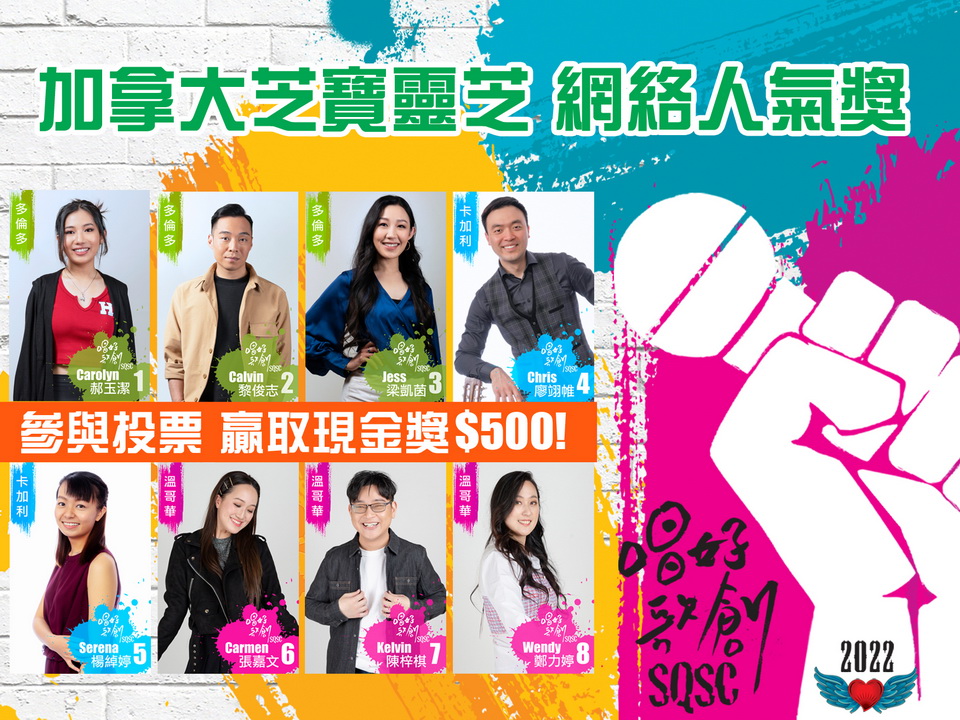 由 6 月 13 日至7 月27 日,從以下 8 位 2022 SQSC 參賽者中選出你最喜歡的一位,除了讓他/她有機會贏得「加拿大芝寶靈芝 網絡人氣獎」外,參與投票的你亦有機會贏取現金獎 $500!
票選將在 7 月 27 日 11:59pm 截止,並於 7 月 30 日在全國播出的 2022 SQSC 決賽中揭曉「加拿大芝寶靈芝 網絡人氣獎」花落誰家,以及中獎的投票者。兩項結果亦會同時在「票選 + 遊戲」版面公佈,得獎的投票者將獲個別通知,亦可致電 604-295-1234 查詢領獎詳情。
每個 IP 地址只能參加一次,新時代集團員工及其家屬不能參加,獎金將不作國外滙款。
留意票選只能在 FR App 在線參加,在電台網頁是找不到這個版面的。 下載加拿大中文電台手機 App 非常簡單,只需以閣下手機的鏡頭對準以下圖片中 Apple 或 Android 的專屬二維碼(QR Code),對焦後,大部份手機都能即時連結至 Apple App Store 或 Google Play 的 Fairchild Radio App;大家亦可以在 Apple 的 App Store,或 Android 的 Google Play 中搜尋「加拿大中文電台」或「Fairchild Radio」,以上兩種方法都能即時免費下載。